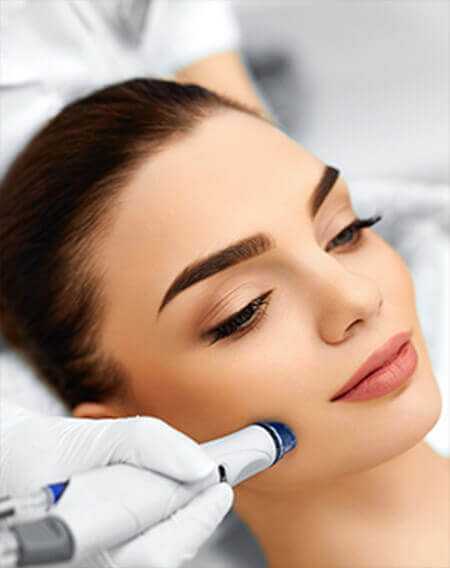 Best HydraFacial treatment in Jaipur
Everyone wishes to have flawless, healthy, and bright-looking skin. With HydraFacial treatment, you will be able to attain a natural glow without spending a fortune on serums, creams, and oils. You will get radiant, red-carpet-worthy skin with 30 – 40 minutes of HydraFacial treatment.
Outbloom Clinic, the best skin and hair clinic in Jaipur, explains HydraFacial treatment as a non-invasive treatment that can be customized according to the patient's skin type and skin concerns. This treatment requires no downtime or recovery. This service has grown in popularity as it gives the skin an immediate "wow effect" by brightening and smoothening it. Before any event or on a regular basis, to keep your skin healthy, both men and women can get this treatment.
A dermatologist in our skin and hair clinic in Jaipur claims HydraFacial treatment helps in clearing out the debris that had blocked the pores of the skin, and as a result, develops smooth and toned skin. People can have the best HydraFacial treatment in Jaipur by visiting Outbloom Clinics at Vaishali Nagar. This procedure is quite effective and safe for all skin types, with a number of prominent positive results already documented.
Conditions that can be cured with HydraFacial treatment for
Men and Women
Gets Rid of Pigmentation

Remove blackheads,

Oil impurities and dirt

Address minor acne problems

Skin/face dullness
Benefits of HydraFacial Treatment
No downtime for the procedure

HydraFacial results in brighter, smoother, and youthful-looking tight skin

You will get moisturized and plumping skin

HydraFacial treatment exfoliate and remove dead skin cells to restore healthy skin, giving you a fresh and glowing look.

It hydrates your skin and assists in skin resurfacing with peptides and antioxidants to enhance your shine right away

Cleanses the oil, dirt, and impurities on the skin to give you a brighter look
Procedure of HydraFacial
A HydraFacial procedure generally requires 30 – 40 minutes of the patient.
Here's what to expect if this is your first HydraFacial treatment appointment:
Cleansing and Exfoliation:
Exfoliation and cleaning are the first steps in your HydraFacial. Our skin expert will use the HydraFacial wand to first clean and then exfoliate the skin of the patient using vortex cleansing and hydra peel tips. While the pores of your skin are opened the dermatologist gently removes the dead skin sebum from your skin. The process is described to be felt like a soft toothbrush rotating and gently stroking the skin.
Chemical Peel:
Outbloom's skin expert will then apply a mild chemical peel by altering the tip of the wand. In contrast to other chemical peels, HydraFacial treatment for men and women use a mild yet effective combination of acids to exfoliate the top layers of skin. This procedure cleans debris from deep pores.
Extraction:
This step completes a HydraFacial. Strong, painless vortex vacuum suction will be used to clear your pores of blackheads and other impurities. To be disposed of, impurities are collected in a cup.
Hydrating Serum:
Finally, using the HydraFacial wand, our best dermatologist in Jaipur will apply a soothing antioxidant and hydrating serum with peptides and other healthy elements. This technique aids the skin's hydration, renewal, and detoxification.
Frequently Asked Questions
HydraFacial Cost in Jaipur
You will see positive results from this treatment after just one session, however, it is advised to have one session every four to six weeks to keep your skin clear and radiant. The HydraFacial cost in Jaipur isn't prohibitive in any manner. But to get a viable estimate on HydraFacial treatment in Jaipur walk-in to our Vaishali Nagar branch or inquire about other services please contact us on +91-9610046699. You can also search for HydraFacial treatment near me to know the best dermatologist in your city.
Plot. No- 5, Amrapali Marg, Near Karni Palace, Nand Vihar Colony, Vaishali Nagar, Jaipur, Rajasthan 302021.