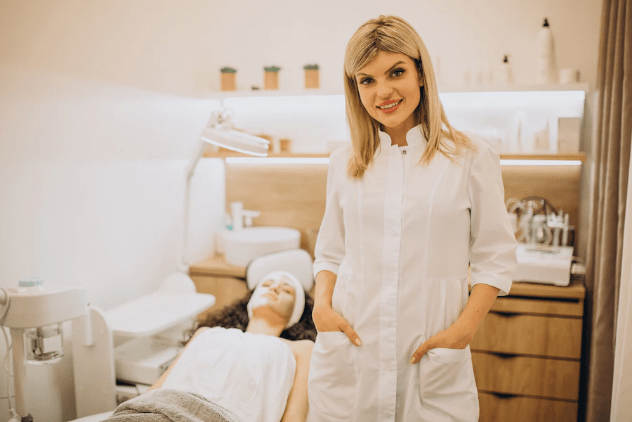 MICRODERMABRASION – FACIALS AND SKIN POLISHING
Microdermabrasion is a non-invasive procedure that uses tiny crystals or other exfoliating surfaces to help remove the superficial layer of dead skin cells.
When the top layer of skin is removed, the body interprets it as an injury. It then quickly replaces the lost skin cells with new, healthy ones.
Microdermabrasion treatment can also be used to reduce the appearance of fine lines, superficial blemishes and marks, improve congested skin, mild pigmentation problems and generally become part of an anti-ageing treatment routine.
WHAT HAPPENS DURING MICRODERMABRASION TREATMENT?
First, a moisturizing lotion will be applied to the face to soften up the upper layers of skin. Then the microdermabrasion unit is run in smooth, firm strokes over the face to slough off dead skin and impurities. Though it may feel rough against the skin, it's not painful.
Microdermabrasion is a less invasive and non-surgical procedure. You need to prepare very little for this. Firstly, you should discuss all your skin problems with the skin care professional. You will be told not to use tanning creams and should not get waxing done before one week. Also, avoid getting exposed to the sun.
The doctor will sand down the external layer of your skin or gently spray to smoothen the skin with a device in the targeted areas. In the end, a sunscreen or a moisturizer is applied to your skin.
What are the benefits of our Microdermabrasion session ?
Outbloom Clinics
5, Nand Vihar, Amrapali Marg,
Vaishali nagar, Jaipur
Frequently Asked Questions
Results of Skin & Hair Treatment
Check out real images of clients who have undergone treatment at Outbloom
Here is what our Happy Patients have to say..
Read below what our esteemed clients have to say about us and what makes us the
premier provider of skin and hair care services.
Hair Transplant
I always loved long, dense hair and took a lot of care, shampooing it daily. But I started to lose it and realized it was almost gone one day! I didn't want to wear a cap to hide my receding hairline, so I decided on a transplant. Most people are afraid of the procedure, thinking they will open your skull, but it's actually quite easy. You can even go back to work the next day. Dr Aklish Jain has done a very good job, as you can see I have good, thick hair again and feel great about myself.
Garry
Hair Transplant
My bald head made me look that much older. But regrowth was impossible now, and a hair transplant the only answer, Dr Aklish told me. I was afraid, but the doctor boosted my confidence about the time taken and the affordable costing. I got my transplant done on Saturday and was back at work on Monday! And you can see the results. When I posted my new picture on Facebook, an old friend found me by recognizing my younger look! Seeing my wonderful experience has motivated my neighbour to get a transplant done. 
Firoze Qureshi
Hair Transplant
I got my hair transplant done by Dr Aklish Jain last August. I was suffering from severe hair loss and felt quite depressed seeing my balding head in the mirror every day. A consultation with Dr Aklish convinced me that I could also lead a normal life like everyone else. And you can see the wonderful results of the transplant performed by Dr Jain. I am very satisfied with the quality of the treatment and the care given to me by his staff here. I would definitely recommend Outbloom Clinic to other sufferers like me.
Arvind Singh
Are you looking for a Dermatologist?
We`re always accepting new patients! We believe in providing the best possible careto all our existing patients and welcome new patients to samplethe service we have to offer.
Outbloom Clinics, 5, Nand Vihar, Amrapali Marg, Near Amrapali Marg, Vaishali Nagar, Jaipur