A hair transplant is a miraculous procedure that can help you stop going bald. It is believed that a person's hair gives them their uniqueness. They serve as an element of beauty for both men and women. Hair is the natural makeup that God has gifted everyone with, unlike the artificial makeup that humans use. Losing hair can be a normal part of aging, but it can be a sign of a dangerous medical condition in youth.
Outbloom Clinics is known for providing the best hair transplant in Jaipur, done by the best hair expert in the city. You will be surprised by the transplantation outcomes, which come with basically zero pain. Our clinics employ cutting-edge methods that make this feasible. Our clinical procedures are completely risk-free and goal-oriented. At Outbloom Clinics in Vaishali Nagar – Jaipur, you can have a hair transplant at a very affordable price.
Our best hair transplant specialist surgically removes hair follicles from one area of your body and then they are transplanted to the area where you want to grow more hair. There are two fundamental methods for doing this:
Follicular unit transplantation (FUT)
FUT also called Follicular unit strip surgery (FUSS), involves the hair transplant doctor removing a strip of your scalp skin, normally from the back of your head. The strip's size may vary according to the number of graft requirement. This strip is subsequently divided into several little fragments known as "grafts". After that, the grafts are inserted in the targeted area.
After the hair transplant surgery, the area treated is covered with a bandage. The duration of the process varies according to the transplantation technique. Outblooms Clinic in Vaishali Nagar is the best hair transplant clinic in Jaipur. To find the best hair transplant specialist in your city google search best hair transplant clinic near me and consult the hair specialist to get more details.
Follicular unit extraction (FUE)
In the FUE technique, Outbloom Clinic's hair transplant specialist takes individual hair follicles from the back of your head. The hair follicles are then inserted into the tiny holes the hair expert makes in the area where the hair has to be transplanted.
Benefits of FUE over FUT
It is an advanced technique
It is less aggressive with minimum pain
Faster recovery
Gives minimum scarring
Since stitching is not necessary, so the complications chances reduce
What do I expect after hair transplantation surgery?
As hair transplantation treatment is a surgical procedure, therefore recovery takes a few days. You will be discharged the same day but our hair transplant doctor can prescribe you a few days of rest. The patient doesn't need invest a lot of time in routine follow up for the treated area as our hair transplant clinic in Vaishali Nagar, Jaipur performs surgery that doesn't trouble our patients. Our hair transplant specialist will then prescribe medication to reduce pain and help in the healing process. 4-5 days later you may return to work.
You may see some hair fall out 2-3 weeks post the surgery. Don't worry, it's normal. New hair growth usually starts 3-4 months later and 60% of new hair growth can be witnessed in 6-9 months. You may see the full result of your hair transplant treatment in 12-18 months. Consult your hair transplant doctor if you face any issue post the treatment.
Frequently Asked Questions
Our Customer's Transformation
Check out real images of clients who have undergone treatment at Outbloom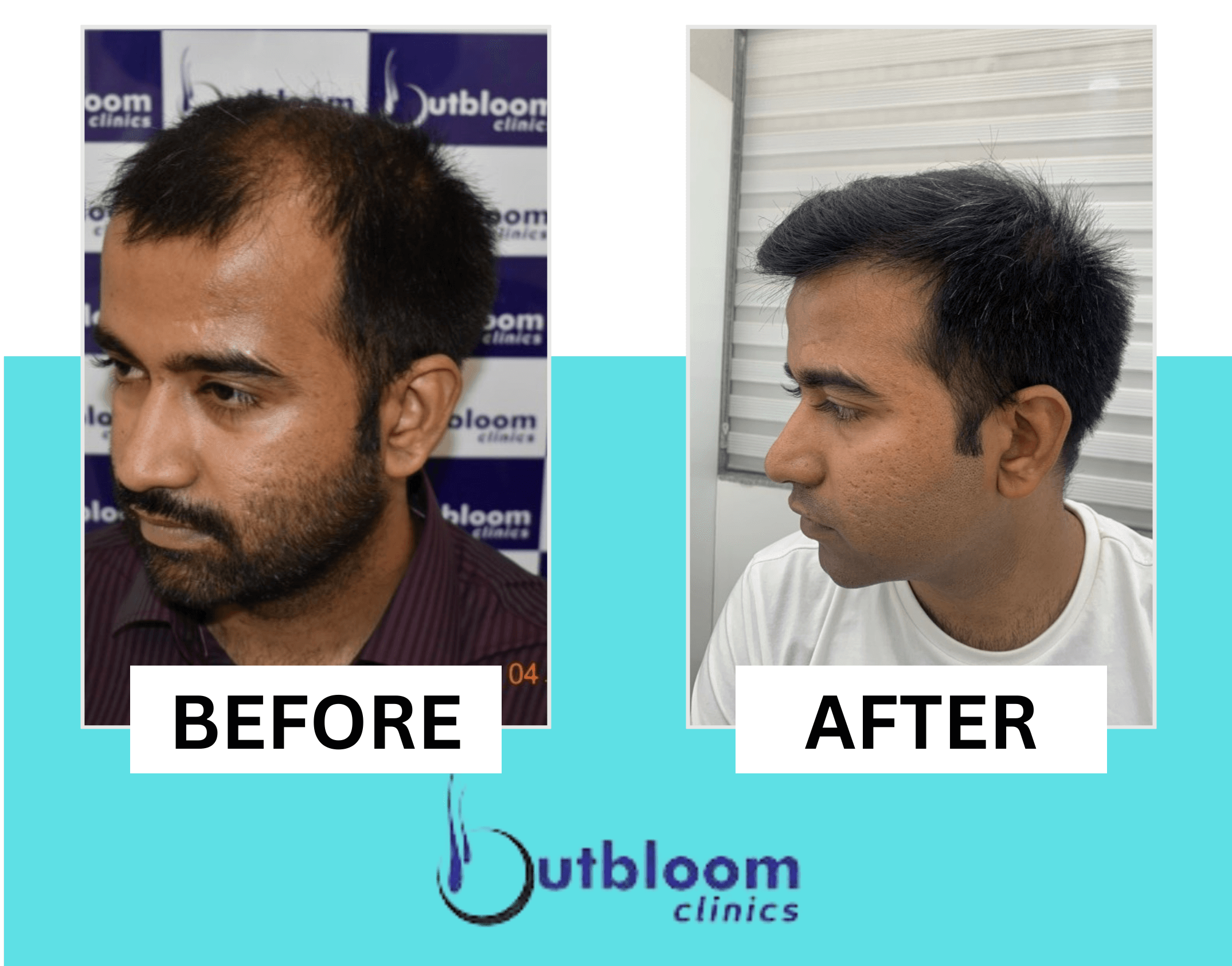 Hair transplant cost in Jaipur
There are various factors like method, the skill of your surgeon, the area of the transplant, etc. decides the cost of hair transplantation in Jaipur. You can get the best hair transplant treatment in Jaipur at an affordable price and the best aftercare services. Outbloom Clinics is one of the highly recommended and best hair transplant clinics in Jaipur due to our professional hair transplant specialists.
Plot. No- 5, Amrapali Marg, Near Karni Palace, Nand Vihar Colony, Vaishali Nagar, Jaipur, Rajasthan 302021.